Advantages of booking on our website
Best price guaranteed
No cancellation fees up to 48 hours in advance
100% secure payment on arrival
25% discount on parking
Your check in online More info
Event rooms
Thanks to the adaptability of the event rooms at Hotel Deloix Business & Events, your event in Costa Blanca can be adjusted to your needs, whether it is an intimate reception or a conference with 500 guests.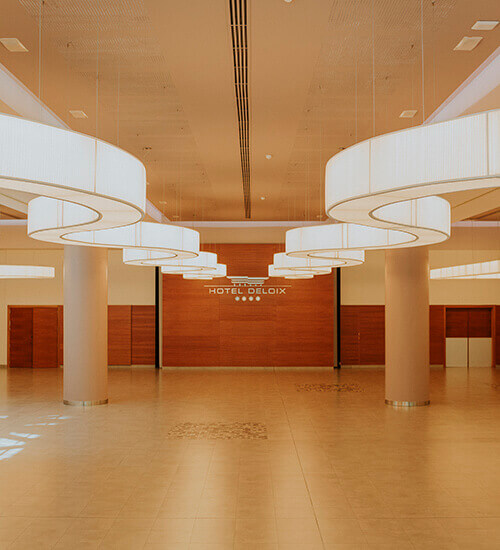 Deloix Room
This recently renovated room is 9,150 ft2 in size and can be divided into three independent rooms with different variations thanks to its panel system. You can also enjoy a coffee break or a cocktail lunch without leaving the room thanks to it having an area designed especially for it. The recent renovation of this space has given it a unique character thanks to its innovative lighting system with adjustable colour and brightness. The whole room also has large windows which allow natural light to flood in, offering magnificent views and direct access to the main garden.
Size: 9,150 ft2
Height: 16.4 ft.
Capacity

Cocktail: 700 pax.
Theatre: 500 pax.
Classroom: 350 pax.
Banquet: 500 pax.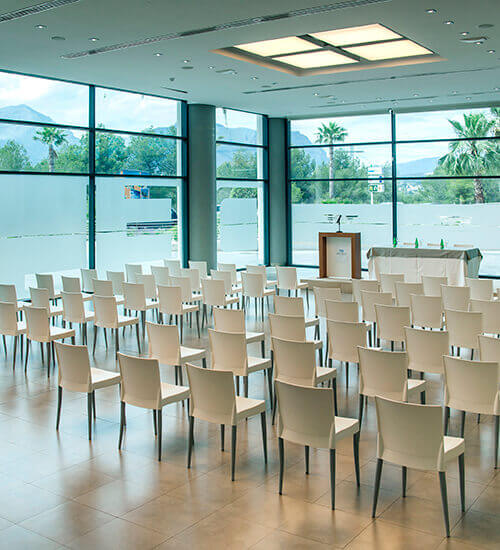 Aitana Room
With 5,695 ft2 in size, this room can be divided with panels into two adjoining and connected rooms with natural light. The room is equipped with a screen, projector and high-quality sound system.
Size: 5,695 ft2
Height: 16.4 ft.
Capacity

Cocktail: 400 pax.
Theatre: 400 pax.
Classroom: 250 pax.
Banquet: 300 pax.
| Room | ft2 | Height | Cocktail | Theatre | Classroom | U-shape | Banquet |
| --- | --- | --- | --- | --- | --- | --- | --- |
| DELOIX | 850 | 5 | 700 | 500 | 350 | – | 500 |
| DELOIX – ALBIR 1 | 200 | 5 | 100 | 100 | 50 | 70 | 100 |
| DELOIX – IFACH 2 | 400 | 5 | 200 | 200 | 100 | – | 250 |
| DELOIX – ORBA 3 | 600 | 5 | 300 | 300 | 150 | – | 400 |
| DELOIX – MORAIRA 4 | 625 | 5 | 400 | 400 | 200 | – | 500 |
| DELOIX – CAMPELLO 5 | 380 | 5 | 200 | 200 | 100 | – | 250 |
| AITANA | 530 | 5 | 400 | 400 | 300 | – | 300 |
| AITANA VALL DE LA GUARDT 1 | 265 | 5 | 200 | 200 | 100 | – | 150 |
| AITANA 2 | 210 | 5 | 200 | 200 | 100 | – | 150 |
| SALA JUNTAS 1 | 37 | 2.5 | – | – | – | 20 | – |
| SALA JUNTAS 2 | 22 | 2.5 | – | – | – | 15 | – |