Advantages of booking on our website
Best price guaranteed
No cancellation fees up to 48 hours in advance
100% secure payment on arrival
25% discount on parking
Your check in online More info
Outdoor spaces
The diversity of outdoor spaces that Hotel Deloix Business & Events offers will allow you to enjoy unique and different experiences within the same event. You can make a presentation in a special setting such as the private tropical gardens and later touch the sky with a gala dinner on our incredible rooftop terrace.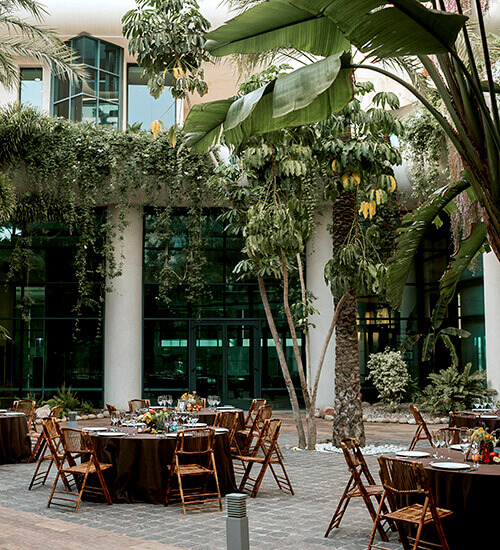 Tropical gardens
Immersed in a private garden with innumerable tropical species, it is the ideal space for a cocktail party, a gala dinner or coffee breaks al fresco during your event. The gardens are also perfect if you want to organise a product presentation in a unique setting or do a photoshoot with a natural and elegant background, all without having to leave the hotel facilities.
Size: 7,000 ft2
Cocktail: 250 pax.
Banquet: 100 pax.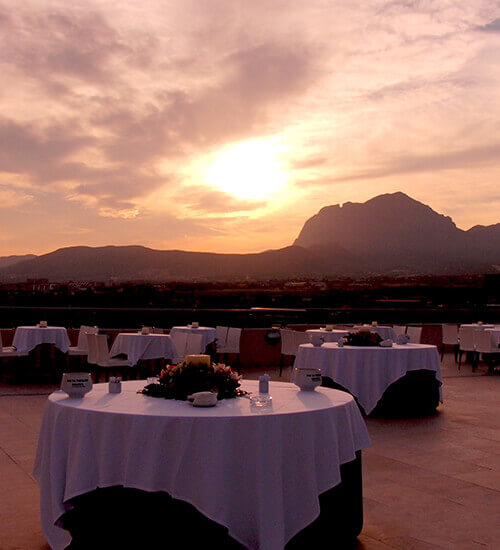 Terraza del Sol rooftop terrace
Located on the building's rooftop, the hotel's large private terrace guarantees the success of any event it hosts thanks to its unique views of the city's skyline and the incredible light of the sunsets over the Mediterranean Sea. The terrace has an office, an infinity pool and large open-plan areas.
Size: 12,900 ft2
Cocktail: 500 pax.
Banquet: 250 pax.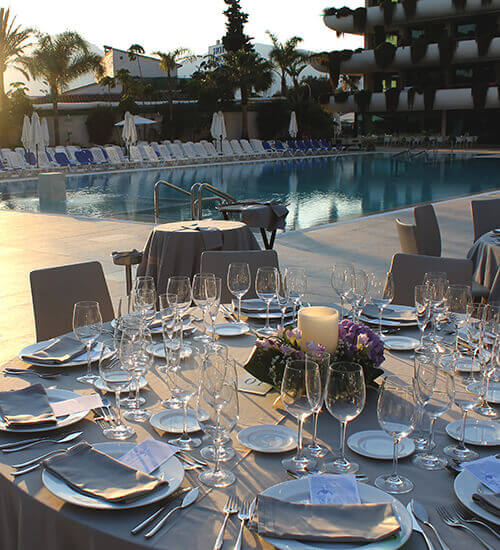 Outdoor spaces by the pool
A large exterior space which can provide intimacy thanks to being surrounded by plants and the hotel's landscaped architecture. It is the perfect setting for a gala dinner during a warm Mediterranean evening, a spectacular presentation by the beautiful swimming pool or a cocktail party as the grand finale of a successful event.
Size: 18,950 ft2
Cocktail: 700 pax. Banquet: 400 pax.
| Space | ft2 | Height | Cocktail | Theatre | Classroom | U-shape | Banquet |
| --- | --- | --- | --- | --- | --- | --- | --- |
| JARDÍN TROPICAL | 650 | – | 250 | – | – | – | 100 |
| TERRAZA ÁTICO | 1.000 | – | 500 | – | – | – | 250 |
| ÁREA PISCINA | 1.700 | – | 600 | – | – | – | 400 |