Advantages of booking on our website
Best price guaranteed
No cancellation fees up to 48 hours in advance
100% secure payment on arrival
25% discount on parking
Your check in online More info
Weddings and celebrations
A tropical garden, a private rooftop, cosy event rooms and an exquisite cuisine to make your wedding in Benidorm unique and different.
Wedding plans
At Hotel Deloix Aqua Center we are committed to organising weddings with heart and soul, weddings that you fall in love with just by thinking about them.
We know how important your wedding day is to you. We know to perfection the amount of preparation required to make your dream wedding come true. For this reason, we provide elegant, cosy and modern spaces unique in the area; an exquisite gastronomic selection and an experienced events team who will take care of every single detail and ensure that they meet your expectations.
Download special weddings brochure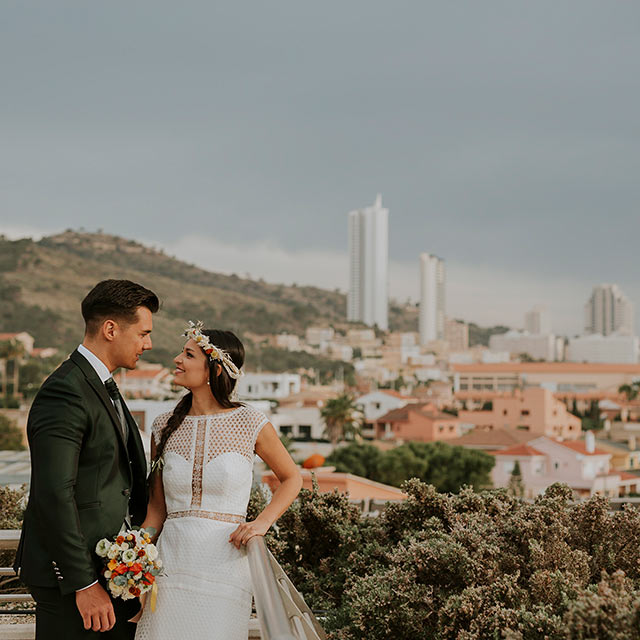 Special celebrations
If you need a space to host a special event, Hotel Deloix Aqua Center offers a wide range of indoor and outdoor spaces so you can choose the one that best adapts to your needs.
We offer private areas where you can celebrate special birthdays, first communions, anniversaries, private parties, business meals or any other kind of celebration.
Ask us any question you may have and our events team will be at your entire disposal to answer it, advise you on the organisation and guarantee that your celebration is exactly how you imagined.
Ask us
Our spaces
Spaces for ceremonies
Get married immersed in a tropical world or touching the sky! That is what you can do in the ceremony spaces that Hotel Deloix Aqua Center Benidorm puts at your disposal.
Event rooms for weddings and banquets
Recently renovated, the event rooms at Hotel Deloix Aqua Center with capacity for up to 550 people are an elegant and cosy option to host your wedding banquet and the open bar after it.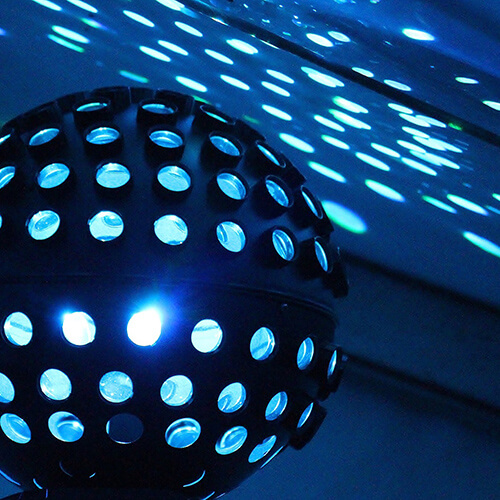 Disco Room
Hotel Deloix Aqua Center has a special room where the party continues after the banquet, a private space with complete facilities where the dance floor and the open bar will bring your special day to a magnificent close.
Services included
Private advice from our expert weddings and events team.
Exclusive spaces for every moment of your wedding celebration: ceremony, cocktail, banquet and open bar.
Basic ceremony with sound system.
Menu tasting for 6 people.
Welcome cocktail.
Menu: starter, fish dish, sorbet, main course, dessert and wedding cake.
Personalised floral decoration on guest tables and head table.
Different table linen and chair models to choose from.
3 hours of open bar.
DJ service during open bar hours.
Fruit skewers and confectionary during open bar.
Audiovisual screen and technical support.
Babysitter during the banquet for 10-year-olds and above.
2 nights' stay in a Superior Room with full board for the bride and groom: wedding night and consecutive night (night prior or night after the wedding).
Wedding breakfast in bed on the first day.
For your wedding anniversary: spa circuit and dinner at the buffet restaurant.
15% discount on accommodation for wedding guests (subject to availability).
*Minimum 80 guests. For a lower number of guests, please contact us for more details.
If you have any questions or special requests, please do not hesitate to contact us. We have a large number of collaborators who specialise in weddings: wedding car, extra decoration, photocall, photography, live music, guest transport, master of ceremonies, make-up, hairdresser, etc.
Your menu
All our menus begin with a welcome reception, served in a private area chosen for the occasion where you and your guests can enjoy a large selection of cocktail food and wines.
Afterwards, the menu that you have chosen from the exquisite gastronomic selection of Hotel Deloix Aqua Center Benidorm, with the personalised advice from our food and drinks department, will be served.